We want Sage CRM to be deployed in anyway that our customers need. We have been working to make sure that - beyond the powerful core features - we provided application programming interfaces (APIs) that are open, standard-based, and free to developers and ISVs. We want our APIs to be used integrate with, and extend out, the Sage CRM core product.
Around the globe, Sage partners have responded to that call with a range of add-ons to enhance that core product. Over four articles, let's have a look at a selection.

---- Microsoft Teams Integration [Spire BMS] ----
The Spire Sage CRM Connector for Microsoft Teams makes collaboration and communication about customers, prospects and suppliers easy and smooth. Create cards against opportunities and Cases and track and discuss your team's progress in your channel and view CRM data without leaving Microsoft Teams.
Companies House Integration for Sage CRM
Companies House is a UK government-run organisation that incorporates, and dissolves limited companies. It registers company and director information and makes it available to the public and via an API. The Spire integration allows easy access to this data for presentation within the Sage CRM interface.

----S5 Maps [s5maps] ----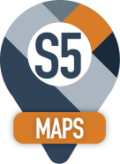 This add-on enables Sage CRM records to appear in a Google Map. Looking up a company in SageCRM allows users to click on the S5 Maps tab which opens up a Google map window in another tab, displaying the current company as the center point on the map to show other CRM companies in the area. Different color pins can be set to differentiate between Customers, Prospects, etc. on the map. You can also search the Google Map for Prospects that may not currently be in your Sage CRM database.
---- Timelinx Project & Service Management [Timelinx Software] ----
TimeLinx provides time and expense reporting and project management functions for Sage CRM that let users proactively manage projects, tasks, staff resources, costs, profits, and much more.