Sci-Fi is not Sci-Fi anymore, fiction is becoming reality. This summer we got to showcase the best of our products and technology during the Sage Summit Tours which happened throughout the world including cities such as Toronto and London. Sage 50 2018 version is launching before the end of October 2017 as well!
Current Sage 50c Features
Are you subscribed to Sage 50c and wondering about how Sage One, Sage Drive, SPS and add-ons like Office 365 with Sage Intelligence Cloud and or EFT all integrate ? We've been adding functionality.
Sage 50c combines and allows the integration of Sage One (basic accounting, for processing invoices and payments fully on the cloud), Sage Drive (allows you to place and share your database on the cloud and to share access with an accountant or colleagues, 5 ppl max read-only, 1 person editing at a time), SPS (credit card number storage secured online) and your classic Sage 50 Desktop installation. All of these products and services are included as part of the Sage 50C package, add-ons include EFT (Electronic Fund Transfers) and payroll (auto tax calculations + e-filing abilities). One year term subscriptions that are paid monthly are available. View this blog for more details and or contact our sales team at 1-888-261-9610.
New Sage 50c Add-ons
Sage 50c now also allows the integration of MS Office 365 for the online backup of data (using OneDrive ) and viewing Sage Contact directly in Outlook online. The Sage Intelligence Cloud Reporting add-on integrated with O365 data can be accessed from the Microsoft Office 365 "My apps" menu.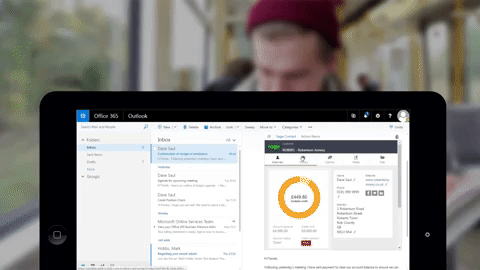 Take advantage of O365
Sage has become an Office 365 reseller and first-line support provider under the Microsoft Cloud Solutions Provider (CSP) program. Contact us at [email protected] for more information. See how Sage 50c now combines the power and productivity of a trusted desktop solution with secure online access and seamless integration with Microsoft Office 365. We recently released a series of videos covering the benefits of this integration.
The top 5 key benefits are:
"Working together with Microsoft we are reinventing Sage 50, one of the world's best-loved business applications. With the rapid growth of the Office 365 user base, the opportunity for future innovation on the Office 365 platform is incredibly exciting. We want to put the power of Sage and Microsoft behind more than 72 million Small & Medium Businesses around the world to liberate them from time-consuming tasks, and super-charge their productivity."
- Speaking live from Sage Summit, Sage CEO Stephen Kelly
Other Features to pay attention to
Mentioned above Sage 50c combines and allows the integration of Sage One with the Sage 50 desktop application (for more complex accounting functionality like inventory and multiple location management, etc). Sage One vs Sage Live vs QuickBooks Online vs Xero vs Financial Force features include:
Keep an eye out for the upcoming integrations coming with AI (as in the Pegg bot) which is NOW AVAILABLE in Canada, US, and UK! Try using it with Facebook, Skype and or the #Slack app (to do this setup Sage One linked to Sage 50 first). It's pretty cool.
Need to create an expense report? Just ask the bot to do it!
Strike a convo with the bot, the bot does all the calculations, records the purchase as stated in the message, or reads a receipt and inputs it into the backend.
Ask it how much money have I made? How much have I earned this month? Who owes me money?
Sage One turned 6 years old in January 2017. Sage One is a younger piece of software than competitors such as Xero which is 10 years old. Last year we showed the highest year over year growth at 81%, expanded to 14 countries in 4 years. If you already have Sage 50c and haven`t activated Sage One then check it out! It's part of your subscription.
We have sharpened our customer focus. We've also focused the business around opportunities for our customers' small business gains, small business aspirations, and small business dreams!
Create Sage Ideas! Enter and vote on new features