Did you know that Sage 50c now combines the power and productivity of a trusted desktop solution with secure online access and seamless integration with Microsoft Office 365? That's right, Sage has partnered with Microsoft in order to integrate Sage 50c with Office 365!
Introducing Sage Contact
Save time and stop toggling between systems with automated sync of Microsoft Outlook and Sage 50c with the Sage Contact feature. You no longer have to switch back to Sage 50 to send emails to your customers!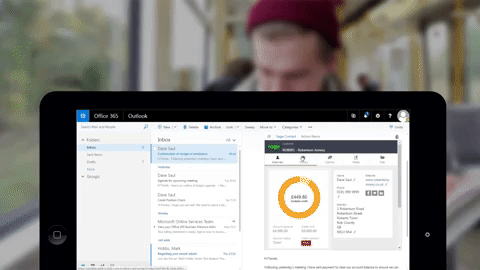 Worldwide Backups and Access
Stop worrying about back-ups or whether you've remembered to take the USB stick home on the weekend – Sage 50c automatically backs up to the cloud using OneDrive by Microsoft (*not to be confused with Sage Drive by Sage which can store full Sage 50 company databases on the cloud).

Mobile Invoicing
And, of course Sage 50c still has all the other features that you have come to love like Mobile Invoicing (with Sage One integrated into Sage 50) which allow you to invoice your customers on the go in order to get paid faster.
As you can see, here at Sage we never stop innovating to help you get back to the important task of growing your business. Give our sales team a call today and get started with Sage 50c and Microsoft Office 365.