First thing to check is your edition of Sage 50 CA, is it Pro? If so, then you only have 7 years + the current year of financial data for reporting available. The Premium and Quantum editions allow for a history of 100 years of data.
Side note: Our cloud software called Sage Accounting has equivalent features to Sage 50 Pro and can do 12 periods of reporting. Sage Intelligence is included with Sage Accounting, however Sage 50 offers the connector option which allows for more advanced customization of reports.
Overview of what Sage Intelligence Reporting is
SI is an advanced reporting solution that can be installed and used with Sage 50 Pro accounting and higher. It allows you to generate MS Excel based reports using data from a Sage 50 company file.
Check out this overview video!
The Standard version includes:

Ready-to-use and customizable business dashboards
18 powerful & ready-to-use , customizable financial, sales, and inventory report templates
Role based security
Access to certain pre-defined Sage 50 fields to create your own templates and dashboards

A Connector module can also be purchased

Includes everything from the Standard version
Allows for the creation of your own data container
Can also create reports that use data from more than one Sage 50 database and consolidate the information

Other requirements

A good knowledge of MySQL databases and Microsoft Excel is highly recommended in order to use the advanced features offered by Intelligence Reporting such as the customization or a report template created from scratch or of a data container.
Ensure that Sage 50 CA is installed on the machine or machines where you plan to perform the installation of SI.
In order to generate a report, you may need to configure the user access rights in Sage 50 CA to allow third party products.
Learn more
If you'd like to learn more about the below topics, then please sign up for our anytime SageU learning course called 50CAA - Sage 50—Canadian Edition - Level 4: Application Specialist (Anytime Learning)
You can also inquire more about the cost of the Standard or Connector version of Intelligence Reporting by contacting our Sage 50 CA sales team at 1-888-261-9610.
Course covers:
Installing Intelligence Reporting
Generating reports with standard templates
Configuring users and user access
Customizing reports from a template
Customizing a new report using an existing data container
The export and import of custom reports
Getting started requirements
Before getting starting, be sure to have purchased and installed the add-on called Sage Intelligence Reporting (currently the latest 2019 version can be downloaded from KB 93405 - see KB 260-1006906 for the French version instructions).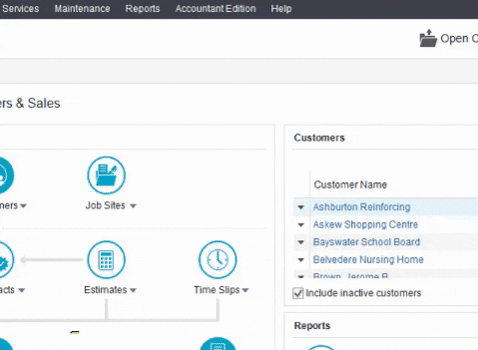 Get the trial version!
There's a trail period available with the download before an activation code is requested, so test it out! You may also be prompted to install MS Excel if it's not already on your computer.
Reminder: ensure Sage 50 CA is installed on the machine before installing SI and close all other open programs.
What using Sage Intelligence looks like
For the below, the Standard version of SI will do.
STEP 1: Launch Sage 50 CA and go to Reports menu > select Sage 50 Intelligence Reporting > select a subsection and select a report that you'd like to generate.

STEP 2: Once MS Excel opens see the instructions page.
Instructions: some report templates include a worksheet with instructions and or one or several worksheets with report data. Read the instructions to familiarize yourself with the report and select another worksheet to display the report data.
It's a good idea to familiarize yourself with all of the reports available. See this PDF resource for additional details.
Next week we'll look at how to customize a report from a template.
Thanks for reading!
For more resources visit: Sage Product Support Resources for help with products in North America