How to get Windows to trust Sage 50 and other programs?
Sage 50 wants full Administrator Rights to run processes and services in the background of the Windows Registry. Newer operating systems like Windows 10 crack down on this behaviour, especially when recent updates are released. When running as administration doesn't even work, Windows Defender and other security programs and firewalls need to be told what programs, files, and folders to exclude.
Windows 10 has a default firewall named Windows Defender. The same method applies to firewalls such as AVG, Kaspersky, Norton, etc:
Note*: We don't recommend turning your firewall off.
Step 1: Check for and Install Windows Updates*
View Control Panel > Windows Updates or search for Windows Updates from within the search bar located in the bottom left of most Windows 10 or Windows 8.1 systems.

Note*:

We have noticed that a failure to install .NET updates 4.5-4.7 on Windows 8.1 can be resolved by switching to Windows 10. These updates are important for Sage 50 2018.0 program launching.
Step 2: Windows Defender Firewall Exclusions
If you trust a file, file type, folder, or a process that Windows Defender Antivirus has detected as malicious, you can stop Windows Defender Antivirus from alerting you or blocking the program by adding the file to the exclusions list.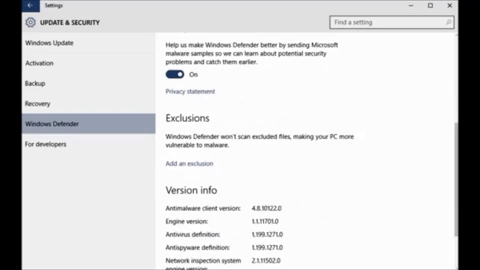 Open Windows Defender Security Center, and then select Virus & threat protection > Virus & threat protection settings > Add or remove exclusions.
Under Add an exclusion, select the files, folders, file types, or process.

We recommend adding File Types: .SAI and .SAJ and adding the Folders for Sage 50 version 2017 / 2018 and WINSIM in C:\Program Files (x86). Also be sure to add the folder location for where your company database is stored.

See KB 10080 for the full list.
Step 3: Try "Run as Administrator"
Can't set your Sage 50 icon to always run as Administrator? Get an error "access denied" and have Windows 10 Family/ Home Edition? Windows Professional edition gives more features. You can try and run as admin manually by right clicking the Sage 50 icon and selecting "run as administrator" each time Sage 50 needs to be launched… as a workaround. Windows 10 in most cases no longer allows you to access Properties > Advanced, and permanently set this as default (Windows 7 still will but it resets at every update).
Step 4: Add Folder Permissions to Database Location
In Windows Explorer, go to main folder (preferably on C drive or on Desktop directly) containing your Sage 50 database and

right click

>

Properties
Uncheck the read-only box on the General tab then go to the Security tab
On the Security tab, click Edit.. Then add "everyone" or "tout le monde" (for FR Windows)
Check the Full Control and Modify boxes checked then click Apply and OK.
Alternate Resolutions:
Visit Windowsreport.com for some alternate suggestions. And or try the following:
Hidden screens causing program "freezing"
Hidden screens can also masquerade as bugs or program freezes when opening reports. There was a recent Windows update that caused a flare up of this issue. If the above happens or something random like not being able to see your main screen occurs, try pressing ALT + SPACE to maximize, resize then move it back onto screen.
A grey box will appear with options to Move or Maximize the hidden screen.
If you notice your keyboard acting funny afterwards, press ALT + SPACE again to turn off the hidden feature.
Corrupt Windows 10 User Profile
"Problems with Windows 10 apps that won't open aren't that common, but if you have these problems, feel free to try the solutions" suggested here. In extreme cases, we've had users resort to creating new local accounts for Windows access (see solution 13 - create new local account).
To do that, follow these steps:
Open Settings and go to Accounts.
Go to Family and other users and click Add someone else to this PC.
Click I don't have this person's sign-in information.
Now click Add a user without Microsoft account.
Enter the username and password for the new user.
Go to Settings > Accounts > Your Account.
Click Sign in with local account instead.
Enter your current password and click Next.
After you've done that, enter username and password for your local account and click Sign out and finish.
Switch to a new local account, and move your personal files to it.
Go to Settings > Accounts > Your Account and click Sign in with a Microsoft instead.
Enter your username and password and click Sign in.
Now you can delete your old account and continue using this one.
Windows 10 Professional Edition benefits
Alternatively, you may want to acquire a Professional edition of Windows 10 that enables more access between Sage 50, the windows registry and ports used to communicate to the company database.
Migration to New Solution
If you've tried everything listed in this KB 10793 article on slow performance in Sage 50 and or "Not Responding" messages, and also tried upgrading your machine to the most powerful options possible to no avail. Then, you may want to review the size of your database along with the number of historical years of information you are holding onto. Perhaps your data has outgrown the version you are licensed for and it's time to migrate to a more powerful business software solution.
To find a good consultant for helping to select your best software solution try using our Sage Match Partner Locator at https://app.sagematch.com/. When dazed and confused, consultants can offer the best onsite assessment of what the business needs and match it to what is available and possible. Developers can often work wonders to create the right software modification or integration.
Data Specs
The database capacity in Sage 50 Pro vs Premium vs Quantum is the same. If your database is large and you're experiencing lots of lag, then it may be time to migrate to a more powerful software solution.